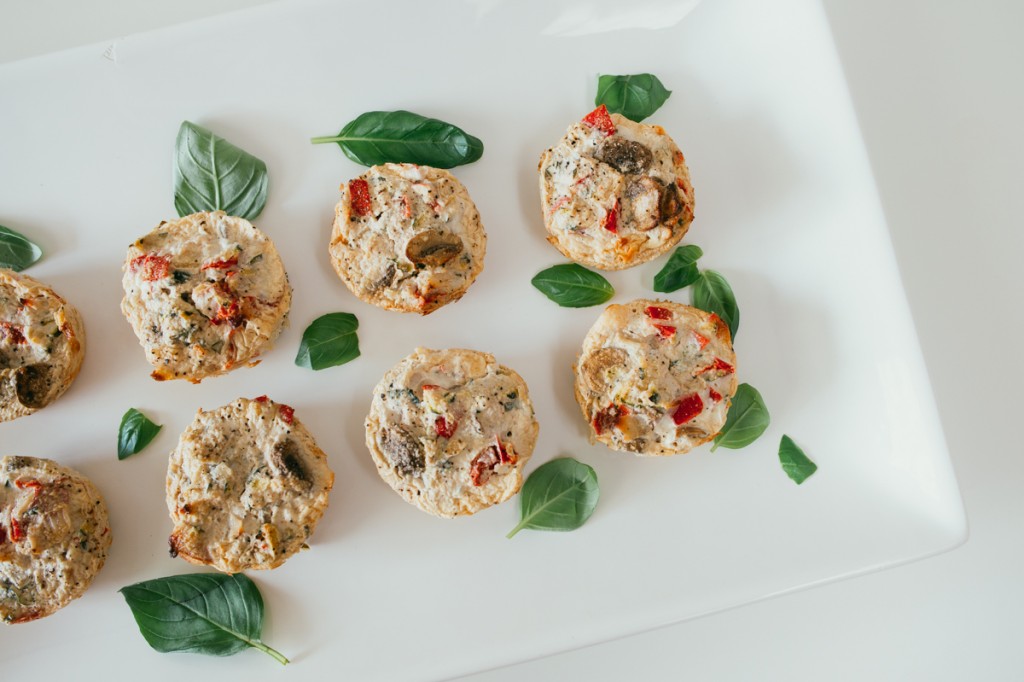 A tasty and highly nutritious, low-calorie vegetarian snack

Ingredients
8 large / 240ml egg whites
4 whole eggs
250g tub of light cream cheese (optional)
2 tsp veggie stock
2 Tbsp coconut flour
2 tsp dijon mustard
2 Tbsp each of dill and parsley, finely chopped
¼ tsp chilli powder
Black pepper to taste
1 small leek or onion, finely chopped
1 medium zucchini (approx. 230g) finely chopped or grated
150g mushrooms, finely chopped
1 large red capsicum, finely chopped
75g or 3 Tbsp crumbled goat cheese or feta
Method

Preheat oven to 180 degrees celcius / gas mark 4.
Blend the egg whites, eggs, light cream cheese, stock, coconut flour, mustard and seasonings.
Add the chopped vegetables and cheese to the egg mix and stir to combine.
Pour mixture into oven proof silicon muffin pans and bake for 25-30 minutes or until golden brown. Serve with a fresh salad, or wrap each frittata in foil for a portable snack.
Makes: 18 mini frittatas
Nutritional Info (per frittata):
Calories: 66
Protein: 5.1g
Carbohydrate: 3.3g
Fat: 3.5g