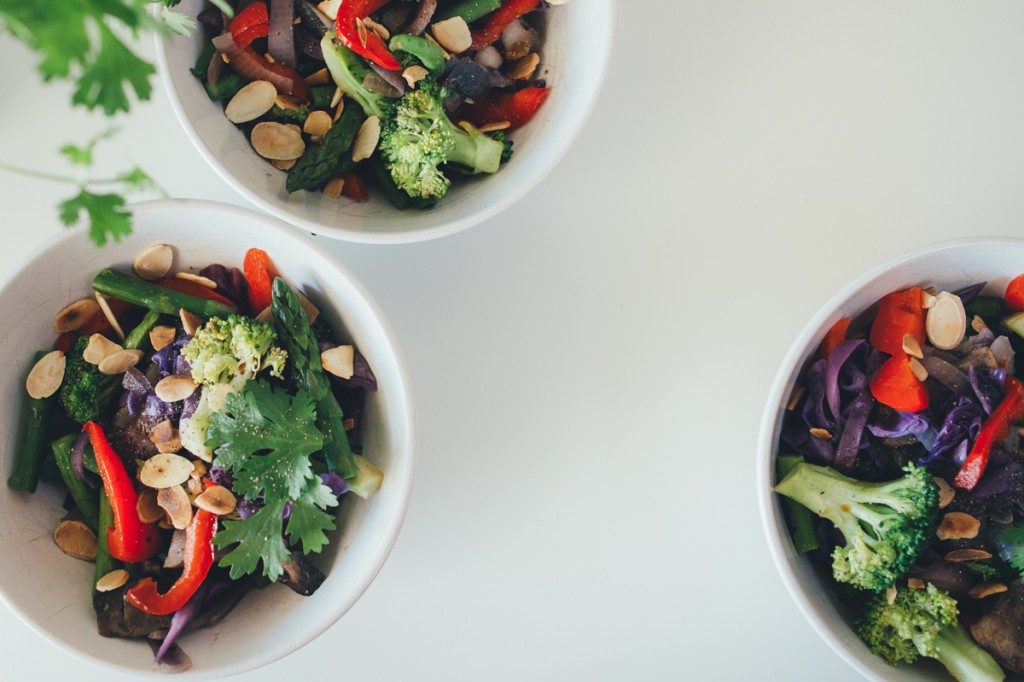 A very healthy dinner, or reheats well for lunch. Add diced chicken breast or lean beef if you like – stir-fry until browned in a separate hot pan with a light spray of oil then add to veggies.
Ingredients:
500g vegetables, fresh or frozen e.g. broccoli, red cabbage, red pepper, courgette
5 sprays olive oil spray
1 tsp each crushed garlic and chili
1 piece of ginger – approx. thumb size, finely chopped
2 tsp green curry paste
3 Tbsp balsamic vinegar
3 Tbsp low salt soy sauce
1 tsp fish sauce
3 Tbsp lime juice
1/8 tsp stevia powder or liquid (or to taste)
50g slivered/flaked almonds
Handful fresh coriander, chopped
 
Directions:
Wash veggies, dry thoroughly and chop into even sized pieces.
Heat a fry pan with spray oil, add garlic, chilli, ginger, curry paste and vinegar. Stir for a minute until hot, then add the vegetables and stir for a few minutes.
In a small jug, mix the soy sauce, fish sauce, lime juice and stevia then pour through the veggies, cooking for a further 2-3 minutes, stirring constantly.
In a separate pan, dry fry the almonds for a few minutes until slightly brown, shaking pan continuously to ensure they don't burn.
Add almonds and coriander to the vegetables and serve immediately.
Serves: 2
Nutritional Info (per serve):
Calories – 209
Protein – 10.7
Carbohydrate – 21.0
Fat – 8.5