Sunny Blevins emailed me in November 2016 saying she wanted some help achieving her health, weight-loss and fitness goals. 
In her words:
"I've always been overweight growing up and was never really active... I also didn't do so well at sports when I was in school. I tend to eat lots of sweets - ice cream, chocolates, baked goods. I have a big sweet tooth. I have a tendency to eat dessert after dinner. I'd like to learn how to balance going out and having meals with friends with maintaining and choosing healthy meals when going out. I'm looking for someone to teach me the right techniques to exercise and nutrition guidance, personalised meal and exercise plans and to keep me accountable, someone to guide me along the journey and encourage and keep me going and to break the journey down to doable goals."
Sunny finished her 12-week Body Transformation Accelerator program yesterday and she said she was happy to share her story with you.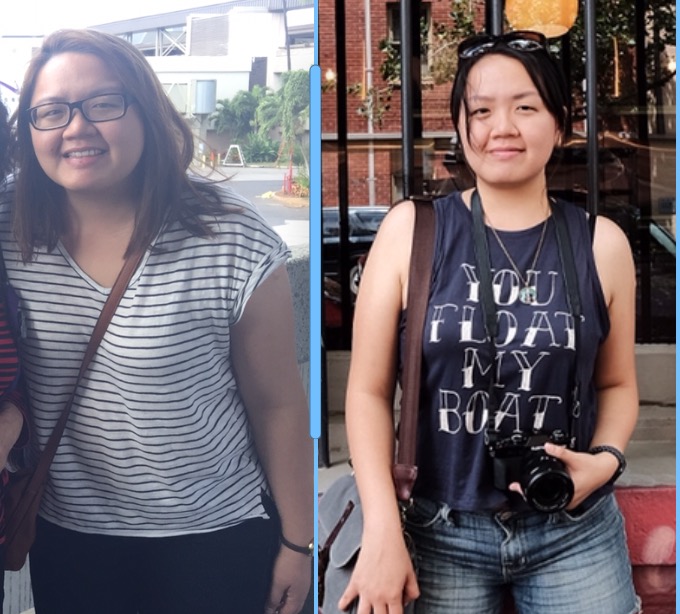 Her journey is so inspirational and I wanted to share with you a little about how she did it!
Sunny
Start date: 3rd Nov 2016
Weight: 79 kg
End date: 22nd Jan 2017
Weight: 69.6 kg
Kat
Before your challenge, what was different in your life, mindset, actions and habits?
Sunny
Before the challenge, I didn't eat breakfast properly and even though I thought I was eating 'healthy' I realised that my portion and what I'm eating wasn't really healthy at all (food marketing was misleading and I was still eating too much – not accurately knowing how much calories/sugar are actually in the food I was eating frequently).
Kat
What did you achieve during your challenge? What did you change in your life?
Sunny
I now make sure I eat a filling and nutritious breakfast
I am achieving fitness goals that I set myself
I am confident in choosing food that is good for my body and will fuel me and refusing those that don't, while timing and enjoying treats once in a while. This has resulted in me being more assertive in other areas as well
I exercise 5-6 times a week and actually enjoy them, they give me more energy and give me a clearer focus for my day. I never thought that I will be able to keep this up, not being very active before.
Kat
What did you learn?
Sunny
How snacks and food marketed as healthy are more often not
How easy it is to eat too much during the day
That I can't see this as a diet but as a change of lifestyle and I need to do things that I enjoy or I won't be able to maintain it
How good it is to keep to the suggested macros
I learn to enjoy cooking and baking my own meals and snacks and to prepare my meals in advance and trying out new recipes
That although some hard work is needed to keep fit and lose weight, it does not need to be endured but can be enjoyed and fun
Kat
Next to each of the below statements, please rate each from 1 – 10, with 10 being the highest possible
Sunny
3rd November 2016
My body feels fit - 5/10
My body feels strong – 4/10
I have plenty of energy – 4/10
I am happy with my posture – 6/10
I eat healthy food – 5/10
I eat the right amounts – 4/10
I feel good about myself – 6/10
23rd January 2017
My body feels fit 10/10
My body feels strong – 9/10
I have plenty of energy – 9/10
I am happy with my posture – 9/10
I eat healthy food – 8/10
I eat the right amounts – 8/10
I feel good about myself – 10/10
Kat
This is my favourite part – seeing the huge improvements in these numbers based on how you feel. We know that it is so much more than just the weight loss, but how it affects us in our life. I especially love:
"I feel good about myself – 10/10"!!!
Fantastic!!!
In your own words, I'd love to hear more about how you feel now?
Sunny
I have so much more energy and previous health problems I have, like coughing and shortness of breath (I'm slightly asthmatic) have improved significantly. I also sleep much better.
What surprised me is how I'm more assertive and confident in other areas of my life. I attribute this to the practice of saying no to unhealthy food when offered and resisting peer pressure. It's easier when you know that it works and makes you feel so much better.
This confidence has also flowed into other areas of my life.
Kat
That's so awesome! What's next for you Sunny?
Sunny
I have fallen in love with running, which is something that I thought I'd never pick up. I ran 10 km last year and really enjoyed it. My next goal is to do a half marathon. The sense of accomplishment and the vibe of running is incredible. I'd like to be able to say that I can run 21 km.
I feel like I can do it, now that I've proven to myself that I can maintain an active lifestyle and lose weight.
Kat
That is really exciting. I'm soooooo happy for you Sunny, I just can't stop smiling! What you've achieved is incredible and I know how much effort you put in to make this happen. 
Besides the weight goal being reached, I really LOVED reading all the things you learned and changed and all the incredible benefits to your life - like more energy, feeling more in control, and the assertiveness and confidence you've gotten in other areas of your life.
THIS is one of the reasons I love helping people like you! 
Any final thoughts?
Sunny
Thanks Kat, I have really enjoyed this program and I have learned so much. Definitely skills that I can apply to other areas of my life!
Kat
It was a pleasure working with you and I can't wait to hear more about how your half marathon training is going! 🙂
Is it your turn?
Would you like to transform your body in 2017? 
I know I can help you achieve the health and happiness that you really want, just as I have with thousands of others. 
Get the support and guidance you need to set up powerful habits for good in 2017 - and enjoy the process!
Many people wish that their year will be better, without creating a plan on how to make that actually happen. 
Many people set goals that they never achieve, or simply wish things would change without having to take any different actions. 
Let's get you the energy, motivation and focus you want in 2017 with the Body Transformation Accelerator!