Staying Motivated This Winter
By Kat Millar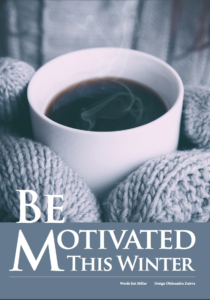 Winter… cosy times by the heater. Dressing gowns and slippers - snuggling into blankets while you watch movies. There are a lot of wonderful things about winter, but for many people when it comes to exercise, there are diminishing levels of motivation.
Like the challenge of working out in the heat of summer, working out in the depths of winter has its own set of problems to overcome.
Winter can also bring a need to 'dig deep inside' to create motivation to stick to a healthy fitness routine.
Three top tips for staying motivated during winter:
1. Remember your 'why'
Motivation comes from the root word 'motive'. Having a motive is having a reason to take action. It's important to know the reason why behind any important action since this will fuel motivation. No amazing exercise program will help if the reason is not strong enough.
Without a clear reason to justify the short-term discomfort (such as saying 'no' to the instant gratification and hitting the snooze button), we usually find that eventually exercise will get too hard or we'll 'get too busy'. 
Our brain likes reward so it helps to continually remember all the benefits of delaying instant gratification. Otherwise, why would we choose the hard option?
It's about seeing ourselves as a fit, active and healthy person, rather than someone that goes on and off an exercise program.
To keep motivation high, maintain goals that are important to you.
2. Have clear goals
There are two types of motivation – 'away from' motivation and 'towards' motivation.
'Away from' motivation is when a person is trying to move away from something; some type of pain or feeling that they don't want to experience. 'Away from' motivation is powerful for a very quick fix, for example, getting out of the way of a speeding car but it's not powerful to use for long-term result.
As soon as the pain is removed the motivation is also eliminated.
You're motivated to lose weight. Your key 'driver' is to get away from the weight, so your motivation is the pain. You start changing some behaviours and you lose a couple of kilos. Once you have moved away from the pain, you are no longer motivated to maintain your new healthy habits. And this is usually where the self-sabotage comes in. You think, 'Oh I've been good lately, so I'll just miss my workout today'.
This can become a slippery slope. Often, this road leads back to missing lots of workouts and gaining all the weight that you've lost.
'Motivation comes after you act'
'Towards' motivation is about knowing what it is that we want to move towards; what we want to attain. What we focus on is what we become. If we're always focusing on what we don't want, we usually get more of it. If we can change our attention to focusing on what we want and have a vision for our life, we usually start to move towards it, regardless if it's freezing outside.
If you want to continue to be motivated for the rest of your life, the key is continuing to set new goals that excite, inspire and motivate you.
3. Take Action – regardless of how you feel
Motivation is a bit like love. It's not just a feeling…it's a 'doing' word. Sitting around waiting for motivation to start rarely works.
A coach once said to me, 'Motivation comes after you take action'.
When we act BEFORE feeling like it, this usually leads to a feeling of real pride. Honouring our decisions and commitments feels great!
Often people will say things like, 'I was so motivated last week - and now it's just gone'. Often, they have lost motivation because they stopped taking action. They stopped exercising, stopped preparing healthy meals, stopped working on an optimistic mindset. This leads to the path of least resistance.
Remember, our brains love positive encouragement and reward. It lights up our dopamine centres (one of our feel-good hormones).
To make the most of this every time you do something to honour your values by making hard decisions, I recommend that you reward yourself.
Examples include: patting yourself on the back, speaking kindly to yourself by saying things like 'Go me!', ticking off a chart, or telling someone about what you've done.
You'll then start craving more of those good feelings!
Final thoughts…
If you're already doing some resistance training, perhaps it's time for a new program if your current one is getting stale?
If you haven't started, add in resistance training and enjoy the benefits!
Would you like:
* To build muscle or tone up fast?
* A sexy, lean body with firmer arms, legs, butt and abs?
* Fully personalised, expert training programs designed specifically for you?

…if so, my Body Transformation Training Programs are just what you need!
These are uniquely designed to suit you and your lifestyle, your body type and most importantly, how you want to look and feel. 
This article was published in 'The Great Health Guide' magazine, June 2017 edition.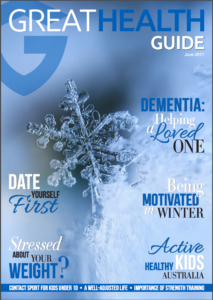 Great Health Guide™ exists to equip & propel every woman into great health & purpose by providing expert health content and inspiration. 
For more info and to grab a copy of their FREE magazine, you can 
check it out here.