I admit it – I am a lover of the gym.

It's my third home, my happy place away from distractions.
However, the downside is travelling there, finding a park and finding available equipment and space to use.
Many people have similar concerns: they either don't like the gym or they struggle to get there because of time, cost or convenience reasons.
Even if you have a gym membership, there are times when it's just too hard to get to the gym.
The good news is you don't need a gym to get strong. In fact, you can build muscle tone and strength without leaving your house.
Training at home is a perfect solution. 
It won't take hours either.
Unless you want to enter a weight lifting event, training with minimal equipment, or even your bodyweight, can still get you a more shapely, firm and strong body if you do the exercises in the correct way.
Training at home is perfect if you're busy, you work from home or simply prefer your own environment.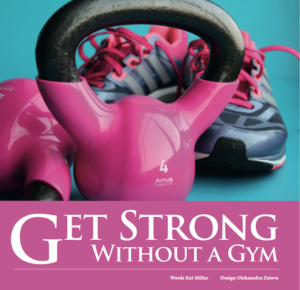 Here are my top tips for working out at home:
1. Continually progress your exercises
Bodyweight training is excellent. However, to make it an effective method of building muscle, you need to progressively overloadthe muscles in a similar way that you would in a gym.
Without progressive overload your muscles have no reason to grow and adapt.
Adding more repetitions alone doesn't usually create a significant enough overload to continually build muscle, but it can increase and maintain muscular endurance and tone.
Building muscle and strength without weights, requires you to continually challenge your muscles by doing increasingly difficult exercises.
If you've been training for a while, working towards more advanced exercises will ensure that you are constantly challenged.
You can do this by adding new exercises, mixing up the order of exercises, using overload techniques, increasing the number of sets, as well as adding unilateral techniques and weight.
2. Use unilateral techniques
By using one limb instead of two. You place significantly more tension on your muscles which is one of the keys to becoming stronger.
Some examples:
One legged squats – Standing on one leg with your opposite leg bent behind you to the side, engage lower abs and push your hips back as though you're about to sit into a chair. Ensure your pelvis stays level. A beginner version is to sit back into a chair and push yourself back up using one leg, or even a small amount of help from your other leg.
One legged deadlifts – Stand on one leg, engage lower abs muscles and bend forward from your hips with a slightly bent knee. Ensure your hip, knee and ankle joints align throughout the exercise and your back is straight.
One arm push ups – Perform on your knees at first. Use wide knees on a mat with your other arm behind your back. Progress to doing this on your toes, if you're up for it!
One arm triceps dips - Begin with one hand positioned on a chair and knees at a 90-degree angle or greater. Bend your elbow to 90-degrees maximum, lowering your hips down towards the floor, then push up out of the dip. 
3. Get some simple equipment
There are a few pieces of equipment that can make your training even more effective. One of the best ways to train your entire body in the comfort of your own home or hotel room is with a suspension trainer called a TRX.
A TRX Suspension Trainer can be hooked to a door frame, tree, or railing. It's so small it can easily fit into a backpack and is nice and light. I take mine on holidays for a full body workout. There's a huge amount of benefits of using the TRX, but it's particularly useful for working your chest, arms, back and core.
Another great piece of equipment is a dumbbell. You can do a whole workout using just one dumbbell, performing movements such as clean and presses, rear foot elevated lunges, single leg deadlifts and squats, woodchops and more.
Finally, another piece of equipment I recommend is a kettlebell. You can perform movements such as swings, clean and presses and Turkish get ups, plus exercises where you simply hold the kettlebell for extra weight, such as squats, lunges and step ups.
'The key is to continually challenge yourself & be creative'
Remember as always, to check with a GP before starting any new exercise regime and to get an exercise professional to teach you the correct technique of the movements. Once you know you're good to go, find yourself some space, pump up the music and go for it.
Enjoy the privacy and the benefits – body and mind!
Final thoughts…
If you're already doing some resistance training, perhaps it's time for a new program if your current one is getting stale?
If you haven't started, add in resistance training and enjoy the benefits!
Would you like:
* To build muscle or tone up fast?
* A sexy, lean body with firmer arms, legs, butt and abs?
* Fully personalised, expert training programs designed specifically for you?

…if so, my Body Transformation Training Programs are for you!
These are uniquely designed to suit you and your lifestyle, your body type and most importantly, how you want to look and feel. 
This article was published in 'The Great Health Guide' magazine, May 2017 edition.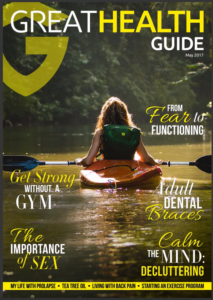 Great Health Guide™ exists to equip & propel every woman into great health & purpose by providing expert health content and inspiration. 
For more info and to grab a copy of their FREE magazine, you can 
check it out here.