This week, I interview Matt Grant, a fitness model competitor and Personal Trainer.
Matt is a fantastic guy with a heap of motivation and discipline.
He's been one of my favourite clients and students at ACPE.
What I remember most about that time is him walking around the campus eating plain rice, green beans and chicken breast. I'd often tell him to add some flavour, but he wasn't interested. 
He trains hard, has a winning mindset and loves helping people achieving great health and fitness. 
Thanks for sharing some of your inspiring story with us Matt!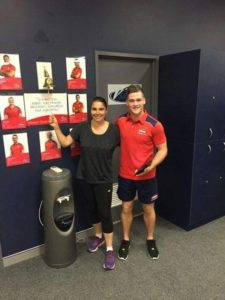 Tell us about yourself and a day in your fit life:
Hi I'm Matt, I currently work at Vision Personal Training in Sylvania.
I'm also studying my Bachelor of Applied Fitness at the Australian College of Education.
An average day in my life involves helping clients achieve their goals through nutrition and exercise coaching.
Why do you keep healthy and active?
Simply speaking, I love the "natural high" and stress relieving outcomes that exercise and healthy eating produces.
Not only do I feel like I'm more productive and have more brainpower following a nutritious meal or an exercise session, it genuinely improves my mood and enhances my energy levels.
What motivates you to keep up your routine?
I'm naturally an intrinsically motivated person.
To date, I've competed twice as a fitness model in the INBA (taking home a fourth and a second placing) and completed a half marathon with a full marathon on the cards next.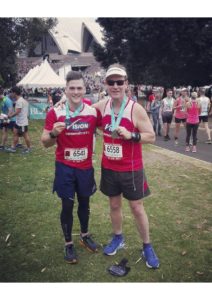 However, escaping my comfort zone and finding new ways to challenge myself is what keeps me motivated.
Whether it's preparing for a new event, learning a new exercise or refining technique - each experience presents a new learning curve.
Additionally, within my occupation I'm exposed to a lot of motivating people. Therefore, expanding my training knowledge into different avenues widens the goals I can help clients achieve, thus having a never ending supply of inspiration.
I love the quote:
"Never say never, because limits, like fears, are often just an illusion" - Michael Jordan
Did you get advice or support on what to do?
At university and work I'm surrounded by a variety of fitness professionals with differing qualifications, skills and experiences.
I also have a coach for my fitness model bodybuilding, which is none other than Kat Millar 🙂
Whether it's in an official or unofficial setting, all of these individuals have shared pearls of wisdom that have contributed to my knowledge as a fitness professional and enthusiast.
Be like a sponge when it comes to each new experience. If you want to be able to express it well, you must first be able to absorb it well." - Jim Rohn
What advice would you give others about getting motivated to be healthy and fit?
Remember that there is no magic pill to make you lose weight, get stronger, gain muscle or get fitter (unfortunately).
The best pieces of advice I can give is:
#1- Stay consistent to training and nutritional behaviours
Keep consistent until they become a habit, routine and lifestyle.
#2- Create a positive circle of influence.
Whenever possible, surround yourself with friends and family who support your goals and lifestyle decisions.
#3- Set compelling goals
Use the SMART acronym (Specific, Measurable, Attainable, Realistic and Timed) and establish a plan to achieve it.
Setting short and mid term goals that contribute to achieving your long term goals creates a framework for long term motivation and results.
#4- Find exercise that you enjoy
Whether its team sports, resistance training, plyometrics, running etc.
The chances of exercise becoming a lifestyle habit will depend on developing a positive association.
Remember:
As for the future, your task is not to foresee it, but to enable it." - Antoine de Saint Exupery
What inspires you?
Simply, I'm inspired by people who achieve goals and milestones, irrespective of how big or small the achievement seem to others.
Champions aren't made in gyms. Champions are made from something they have deep inside them, a desire, a dream, a vision. They have to have the skill, and the will. But the will must be stronger than the skill." - Muhammad Ali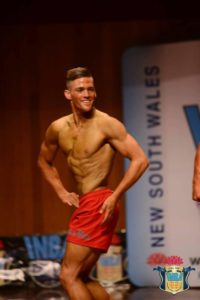 Thanks for sharing with us Matt!
You're an inspiration 🙂
Keep changing lives!
Kat

Is it your turn?
Would you like to transform your body and achieve your health and fitness results?
I know I can help you achieve the health and happiness that you really want, just as I have with thousands of others.
Get the support and guidance you need to get a fitter, leaner and stronger body.
Many people wish that things would get better, without creating a plan on how to make that actually happen.
Many people set goals that they never achieve, or simply wish things would change without having to take any different actions.
Let's get you the energy, motivation and focus you want and deserve!
I am opening up THREE spaces for a complimentary 30 minute coaching session, where I will help you create your plan for a better body, in less time... for good!
Spaces will fill fast so click the link below to grab yours now: