This week, I interview Magdalena Hawley from Mum's Gone Strong Fitness. 

Magdalena is passionate about helping inspire people to exercise safely and enjoy it!
Thanks for sharing some of your story with us Magdalena!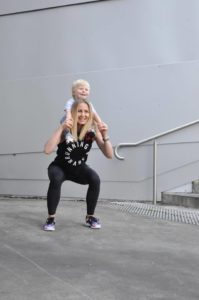 Tell us about yourself and a day in your fit life:
I'm a mum to a very active 3 year old boy and a business owner so my days are usually busy. On the work days, I drop off my son to Day Care in the morning and then run my Mum's and Bub's outdoor sessions, train few clients follow up by my own workout and some admin. Then is day care pick up, evening routine with my son and often some more admin when he's in bed or wine with my hubby.
Why do you keep healthy and active?
I want to be healthy for my family and my son. I also keep active to stay sane! It's my me time. It's makes me feel good, happy and strong. My son is very active so staying fit also helps me to keep up with him.      
What motivates you to keep up your routine?
Being strong and healthy. I try to focus on performance (not how I look), it's great to feel how your body is getting stronger and fitter and see what it's capable of.
What differences have you felt by being healthy and fit?
Firstly the energy, especially if I workout in the morning!
Also being able to run after my son and being able to carry heavy shopping.
Plus mentally, I feel happier after a workout; it helps me to de-stress.
Did you get advice or support on what to do?
I've been in a fitness industry for over 10 years and I'm a course junky. I always try to learn new skills. I also love training with a personal trainer, it's just makes me work harder.
What challenges have you had and how did you overcome them?
19 months after I had my son I've learned that I have pelvic floor dysfunction – prolapse (which is very common but not often spoken about), and that all the exercises I've been doing like heavy lifting, jumping and running could make it worse.
So after that I've decided to learn as much as I can on postnatal fitness and how to keep the pelvic floor strong and safe. I worked closely with women's health physio and modified some of the exercises to keep my pelvic floor safe.
And that not only lead me to having a functional pelvic floor now (I still have prolapse) and lifting heavy again, but also starting my own group and personal training business specialing in training mums (www.mumsgoingstrongfitness.com) so I can educate other women on getting strong from the inside out post-birth.
I consider myself lucky because I used this experience as a motivation to help others; however, there are many mums who feel like their body let them down after finding out that they have prolapse. They feel alone, lost, and depressed!
They are angry and scared, feel resentment, and hate their body. And on top of that they feel like a shit mother for being unable to enjoy their baby. Prolapse is not just a body issue, it's really hard on women mentally. In addition, if you Google, sadly, there aren't many positive stories. Women don't like to share about this experience, and I get it. It wasn't easy at first to share my story publicly either, but I knew that it could give hope and encouragement to others.
What inspires you?
My clients (and any Mum really!). Being a Mum is demanding - add to that sleepless nights, looking after the family and the household etc.
Plus the pressure to look a certain way almost straight away after you push out that little human! It can be exhausting mentally and physically. 
It's incredible how Mum's with more then one child are doing it and they also find the time to train with me.
It's very inspiring!
What advice would you give others about getting motivated to stay active?
Consistency is a key so find something you enjoy doing and keep doing it as often as you can. It doesn't matter if it's Zumba class, hiking or lifting weights. If you enjoying something, that will make it easier to stay consistent.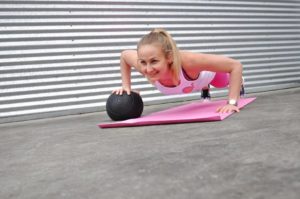 Thanks Magdalena-fit-Mum!
Keep changing lives 🙂 
Kat