I met Grant through a friend of mine. He is super inspiring!
I knew he would be perfect for the Fit Life Stories series. Thanks for joining us Grant!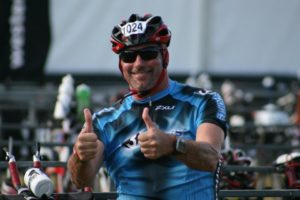 Tell us a bit about yourself and a day in your fit life:
My name's Grant Leslie and I'm a 56 year old male living the life. Commuting long hours for work means that I have to be organised in my training schedule. I have been involved in Triathlon for over 10 years now and train in one of the disciplines Swim, Bike, Run six days a week if I can. 
I will usually do something at lunch time, a spin class or a couple of kilometres of swimming or maybe a 5 kilometre run. It really depends on what kind of event I am training for.
(editors note: I'm feeling tired already just thinking about it!)
Why do you keep healthy and active?
I have a wardrobe of clothes that I want to keep wearing! 
Every triathlete, regardless of the event distance has a story. Mine is not uncommon.  I took up the sport at 45 after my 20 year marriage ended.  I weighed in at 110kg from spending too much time on the couch eating junk food and drinking beer, feeling sorry for myself. 
Some dear friends intervened and said … "Mate you are fat and you need to do something" so I started walking. 
After an office challenge, I did my first 'enticer triathlon'.
The feeling of achievement I had that day was something that I had never experienced before. I wanted more of it. 
I joined a club and I soon had a new social network.  I started training and looking after my eating and started shedding weight.  My race distances started to increase.  In the year that I turned 50, I won the Australian Half Ironman series for my age group and weighed in at 80kgs.
In 2011, I completed the bucket list race, an Ironman, a 3.8km swim a 180km bike ride and a 42.2 km run in 13Hrs and 36 min.
In 2015, I was selected to represent my country in the age group World Triathlon Championships in Chicago. While that race didn't go to plan, it was a great experience.
So why do I keep healthy and active? Training helps me keep my mind clear, I get a sense of achievement and it helps me stay happy.
What motivates you to keep up your routine?
As triathlon is a multi sport, it has a lot of variety and so I don't get too bored. 
For the swim, I can enter ocean swims in the summer or do pool swims at different locations. I can train with my mates on the bike and it also become a social experience, as with running. 
My routine often builds to an event, then I compete to finish not to race. Finishing is the goal for most triathletes, that's the buzz.
What have you felt by being healthy and fit?
Principally, it's a sense of achievement. I am doing and have done stuff I never thought I could.
I am not depressed like I was all those years ago. I have met some amazing people and have lifelong friends. Sometimes I look at myself and smile, feeling that I look good for an old fart.  That makes me happy.
Did you get advice or support on what to do?
At the moment I have a coach who is helping me work on a couple of races that I have entered.  Over the years I have had coaches for particular events.
I have sought the advice of experts and mostly the support that I get to do this ridiculous sport is from my network of friends and family.
What challenges have you had and how did you overcome them?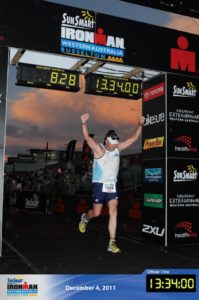 Every event throws up new challenges and I always learn something new about myself.
One event was going really well - I had a solid 2km swim and 85km bike. I got into the run and started cramping in both legs.  I was faced with a choice, pull out or keep going and work through the cramps. 
I found the pace that was the least painful which was in between a jog and a fast shuffle. I finished that race, got a massage and some salt tablets and I was as good as gold. I'm so glad I did!
The take away from that one was to never give up!
What advice would you give others about getting motivated to stay active?
Enduring in most sport and exercise starts in your head. The human body is capable of amazing things and I have proved that to myself, so I know it's true.
To stay motivated, I think you need to set a goal and have a plan of how you are going to achieve the goal.
Surround yourself with other motivated people and make sure that some of them are better than you are - so you can aspire to greater heights.
Allow yourself to fail and learn from everything along the way. And always get the right advice along the journey so that you don't hurt yourself.
What inspires you?
Other people inspire me.  I am in awe of what people can do and I want to be like them, because I know I can be if I choose to.
Thanks Grant!
Wow, I'm feeling like I have nothing to complain about now after reading about all those thousands of km's you've endured. Thanks for sharing. Totally inspiring! Kat