Are you struggling to make the impact that you want to make in your business?
Would you like to build your following through inspiring, educating and empowering your community?
This value-packed workshop will cover top, proven strategies to increase your influence, grow your business and reach more people with your message.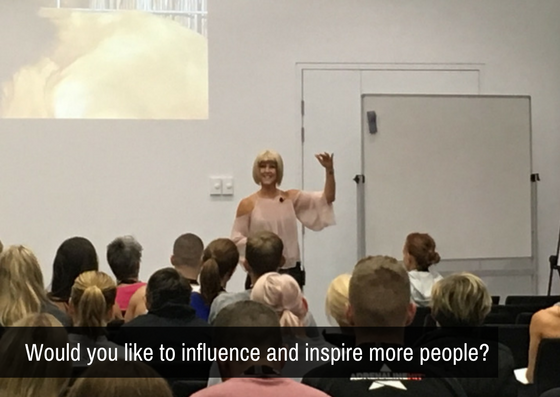 WHO IS AMPLIFY YOUR INFLUENCE FOR? 
Amplify Your Influence is for you if:
You have a business you want to take to the next level, or an idea or passion that you want to monetise.
You want to make a bigger difference, make excellent money and get your knowledge out to people in a greater way while remaining your genuine, authentic self.
You've been struggling to attract or retain your ideal clients and keep getting stuck (even though you know you could help many more people to improve their lives).
You want your business to not only support you financially but to fulfill you and be aligned with your passions.


You're overwhelmed by all the information out there and want someone you can trust — who's walked the path themselves — to give you answers and real-world solutions.


You want practical, actionable strategies that you can implement immediately — steps that you know are going to work, and give you tangible results.


WHAT YOU WILL LEARN:  

The best ways to package your services to maximise your impact and leverage your time


How to create content rituals to make sure you get valuable content out in the world, consistently 

How to run successful workshops and webinars

12 powerful questions to inspire people to buy, elegantly and authentically 

How to dream bigger and step up in a greater way in your business




WHY I DECIDED TO DO THIS:  
I used to be really nervous about putting myself out there as an educator. I didn't know exactly how to do it, but I knew that continuing with the one-on-one model that I was using in my business wasn't going to give me the kind of impact that I wanted to create.
So I invested in learning business, sales, marketing and professional presenter training (with multiple companies) and applied what I learned. It made the world of difference in my business and created a great passion for teaching the art of influence.

I started regularly running programs for small-business owners how to position themselves as an influencer, by teaching them crucial skills to grow their business and go from strength to strength.
From all the observations, coaching and presentations, I created a rock-solid formula to help people step up, step out and spread their ideas.
The formula has been helping people to find and use their authentic voice to help more people and make a bigger impact.
Effective influence skills can help you build your business by leaps and bounds.
When you learn how to communicate your message powerfully, share your vision and inspire and educate your community effectively, it changes your business.
Learning how to influence is one of the most important skills you can develop to grow your business, confidence and impact.

When you build a business based on leveraging your time, your strengths, connecting with your community, and inspiring and educating your ideal client, you will remain passionate and enjoy the journey.
I'm a strong believer that a profitable business doesn't have to come at the expense of your lifestyle, and success can be rapid… even for people who've never felt like a 'natural' entrepreneur and struggle with everything that there is to learn in business.
I want to ease the burden for you by showing you an easier way. You don't have to learn everything from the ground-up. Learn from someone who's walked the path themselves and will give you simple, real and fast solutions.



Leave the day with loads of unique takeaways and strategies that you can apply straight away

Meet great new people and build your network with other like-minded people

Have your questions answered to get you unstuck and moving forward into the right action, fast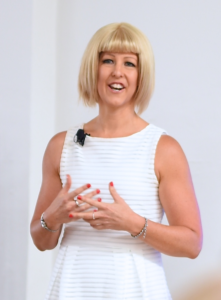 About Kat Millar
Speaker, Coach, Owner: Get Results Training  
Kat has helped thousands of people to achieve life-changing results over the last 15 years.
Kat offers a wide range of knowledge drawn from her experience as a business owner and from speaking, coaching and training in three different countries.
Kat is a professionally trained Speaker, NLP Practitioner & Coach.
She's invested tens of thousands of hours into learning highly-effective communication, crafting and confidence skills.
Her seminars and workshops are inspiring, thought-provoking and always packed with valuable strategies and takeaways that can be applied straight away.


Break out of the patterns that are keeping you stuck and learn how to effectively share your message with more people, make a greater impact and take your business to booming new heights!  
Saturday, 7th April 2018, 12pm - 5pm
Earlybird tickets only $97 until 31st March
($147 thereafter)
Includes refreshments and a workbook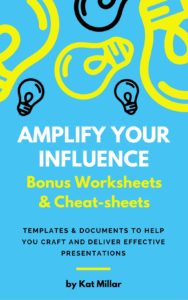 BONUS: The first 5 people to register receive a special 'Amplify Your Influence' template pack!
Includes access to my most popular downloadable templates, articles and worksheets to help you craft and deliver masterful presentations.
Click below to learn more: